Identifying what to watch
14 Key Performance Indicators that matter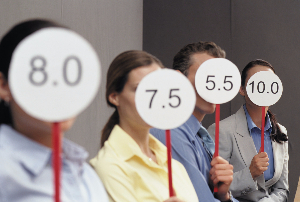 As a business owner, it is your responsibility to pay attention to every detail of the business. From employee satisfaction to growth indicators, you need to be on top of how your company is performing at every turn. That's why 14 entrepreneurs from Young Entrepreneur Council (YEC) were asked the following:
"What one key performance indicator should CEOs be tracking above all else and why?"
Key Performance Indicators Examples
Here's what YEC community members had to say:
1. Revenue per Employee
"As a company grows, it's easy to see opportunity on the horizon and often, new resources are needed to go after it. Keeping tabs on the amount of revenue per employee helps you to see if the new resources are enabling you to take advantage of the new opportunities or actually draining the rest of the business." ~Matthew Bernard, Darex LLC
2. Revenue Growth Rates
"I use revenue and growth rate as an important exercise in benchmarking. Revenue tracking gives a great key performance indicator on the success of your initiatives, your departments and how well you are innovating to keep up with the changing needs of your customers. If you follow the numbers closely and break them down by categories, you can compare to last year and identify trends and changes." ~ Michael Averto, ChannelApe
3. Repeat Business
"It's important to know how many people are coming back and buying again. This intent and interest should be tied to other strategies and tactics, so that motivation must be identified. It's what can attract new customers and what may help you determine how to market to those who might be interested in buying again." ~ Angela Ruth, Calendar
4. Value
"While most company officials are focused on profit and loss, I tend to focus on the two halves of the same coin that make a business work: How much value is in whatever you are trying to sell? How much value lies within the people who run your company? These two must work in tandem or any business will fail. Every single aspect of your business should revolve around a mutual exchange of value." ~ Jason Criddle, Jason Criddle and Associates
5. Profitability
"It really varies based on what type of company you are. For 90 percent of businesses out there, profitability should be that KPI. A lot of businesses get caught up in revenue, a total vanity metric. I've seen dozens of companies fail while having substantial revenue growth" ~ Grayson Lafrenz, Power Digital Marketing
6. Client Satisfaction
"The most important metric that should be tracked is client satisfaction. When your clients are unhappy, it is safe to say that they will look for better alternatives, which, to your business, will mean loss in revenue. By channeling your efforts toward maintaining or improving client satisfaction, you are in a better position to increase prices or come up with new offerings." ~ Derek Robinson, Top Notch Dezigns
7. Employee Happiness
"If you don't take care of the people who work for you, they won't take care to ensure there are profits within the company. You want to make sure that the company is making money and the people in your business are the ones that make that happen. Keep them happy and motivated, and your business will succeed." ~ Nicole Munoz, Start Ranking Now
8. Month-Over-Month Growth
"Whether it's new users or new revenue, tracking month-over-month growth will give you an irrefutable understanding of how your time is spent each month, and whether your team is moving the business forward or not. It's certainly important to track this weekly and quarterly, but these days, a calendar month is sufficient time for a team to show productivity, or lack thereof." ~ Ben Jabbawy, Privy
9. Year-Over-Year Performance
"Many businesses deal with seasonality or spikes in results depending on the month. By comparing the current year results to prior year results for the same month, a CEO can gain a more accurate snapshot of how the business is performing. Monitoring revenue and expenses for these periods can quickly identify spikes in costs or sales, etc." ~ Shawn Schulze, Names.org
10. Rate of Attrition
"Subscription-based businesses should be keenly aware of the attrition rate (also known as 'churn'). Attrition rate measures the proportion of subscribers who cancel in a given period. If the attrition rate equals or exceeds the number of new subscribers, the business is in trouble and it's time to re-examine some core assumptions." ~ Justin Blanchard, ServerMania Inc.
11. EBITDA
"Earnings before interest, taxes, depreciation and amortization is the single source of truth because it's the least "fudgeable" number that's also the most relevant to all businesses. This assumes that the CEO and key players are receiving a salary — many small business owners don't pay themselves or key players an appropriate salary — but when salaries are factored in, EBITDA shows you how the "business engine" is truly running." ~ Charlie Gilkey, Productive Flourishing
12. Content Marketing ROI
"As more businesses increase their content marketing budgets, it's important to keep track of its ROI. One way to do this is to take a look at your bounce rate and conversions per article in Google Analytics. If you're getting a high bounce rate and low conversion, that's an indicator that your leads are low quality and aren't looking for what you have to offer." ~ Syed Balkhi, OptinMonster
13. Cost per Acquisition
"Regardless of the type of business, cost per acquisition is the most important key performance indicator. If your cost to acquire a new client or customer is greater than the value they bring to your company, then how will you ever make a profit? Keep a close eye on your cost per acquisition and consistently try to find ways to bring it down." ~ Duran Inci, Optimum7
14. Pitch Win Rate
"For companies selling business-to-business, in order to create predictability and smooth out booking, pay attention to pitch win rates to drive pipeline growth, deal closure and assess the size of each opportunity." ~ Ryan Stoner, Phenomenon
While there is an extensive range of KPIs available to you, knowing where to focus your attention when it comes to evaluating your business can make you more effective and make the best use of your time. Call the team at Alliott NZ in Auckland on 09 520 9200 to point you in the right direction or to formulate a structured KPI reporting system for your business.
Article by The Young Entrepreneur Council, published by Small Business Trends. First published on 9 April, 2018 -
https://smallbiztrends.com/2018/04/key-performance-indicators-examples.html