Facebook's new Explore feed
Currently, our Facebook newsfeed is getting slammed by posts and content being published from brands, businesses and entertainment industries just to name a few.

The aim of this new change Facebook is implementing is to place more emphasis on exchanges and interactions that are meaningful and personal to users. In doing this, Facebook is shifting the news feed content back to posts from family and friends or Facebook groups you are a member of.

More and more, companies' organic reach on Facebook (percentage of followers who see company updates that aren't "boosted" with paid advertising) is dwindling, dipping as low as 2%. In response, Facebook's new discovery focused 'explore feed' was passed through testing phase and is rolling out in selected international territories. In a nutshell, Facebook created explore feed in response to feedback from users who say they want an easier way to view posts from family and friends without the congestion of business information or Pages they've previously liked.

The solution Facebook is experimenting with will separate some Page publishers' content from personal by banishing it from the news feed to the explore feed, which is not as easy to locate, being buried in a separate tab on devices and on a left-hand rail on the web version: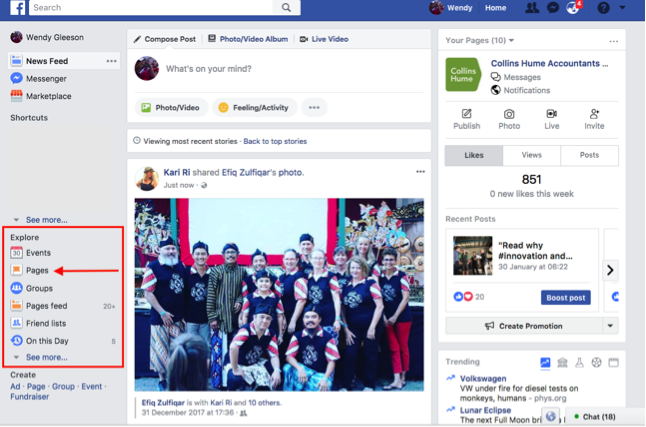 Now it seems Facebook may finally kill organic reach on the News Feed entirely, as evidenced in Social and Social Media Network Referrals to websites.

In light of this, marketers and publishers will now be compelled to review strategies and will be left with little choice but to consider alternative ways to distribute business content, whether via email newsletters, LinkedIn, an optimised website or other channels.
Why we're posting brand news on Google MyBusiness Locations, not G+
Not sure if you noticed as much as we did, but during the backend of 2017 it was becoming increasingly difficult to access analytics for some Google+ Brand Pages, Google's answer to Facebook. It is not uncommon to see Google change their algorithms and this seemed to be occurring again during 2017.
When we came back to the office after the Christmas / New Year break, we found Google MyBusiness Locations in full swing.
There are compelling reasons to switch your post brand news to Google MyBusiness Locations.
According to Google, Locations are where potential customers go to find out about your business, moreso than trying to locate a G+ Brand Page. They do maintain that G+ is still about connections (follows) and communities. However, we need to think like users.
Even more interesting is that if you type 'business name location' into the search bar, as long as that business is verified, you should be able to see even more Google information about that business: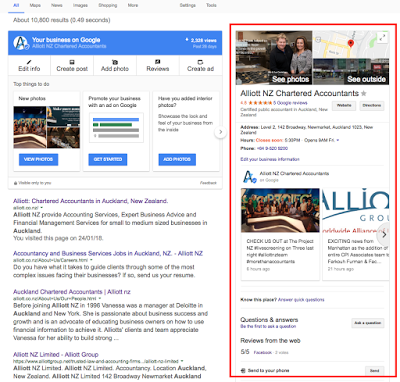 As Google is all about user experience, not only does the user still see basic contact details about your business, but also your Google Reviews, Q&A and, now, your latest posts.
Posts don't last forever on Google MyBusiness Locations but, as long as you're making a regular fist of posting, that's not an issue. And you're still able to tap into analytics each month-end to see how things are performing.
If G+ is not automatically flipping you into Google MyBusiness Locations (which it did for us), do some test searching yourself or let us know if we can help.
Source Wendy Gleeson CPM | wendy.g@alliott.co.nz