Play to your strengths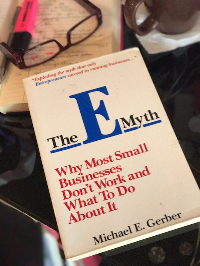 Michael Gerber wrote a book (many years ago now) called The E-Myth – it's still a really important reference today for any business owner.
One point that Michael makes in the book is that most businesses are started by someone with an 'entrepreneurial seizure'.
So, in other words, someone who thought, "I can do that better than the person I'm working for right now."
"I can build a better business that can provide me with the things that I need."
That might be more money, a better lifestyle or having the freedom to take more time away from the business.
But here's the snag:
Often, many entrepreneurs are the best salesperson of that business. But as the business grows, they can fall into the trap of thinking, "If I'm going to grow my business, then I should now step into the role of CEO and bring in others to do my sales work and even other people to carry out the marketing."
The problem with that thinking is as follows:
If the founder of the business – the entrepreneur – stops doing the things they're really good at, the business could potentially suffer. So if you're that person, it's important that you remain focused on what you do really, really well and then bring in other people around you as the business grows to enable you to keep doing what you're doing without jeopardising your business.
It's a fine balancing act and a challenge that we've addressed with business owners many times.
If you recognise these symptoms, give the Alliotts' team a call in Auckland on 09 520 9200 to organise a time to work through some of your options.