Kemps Weir Lawyers joins Alliott Global Alliance in New Zealand
Established in 1996, and headed up by Mike Kemps and Stuart Weir, the top 50 law New Zealand firm specialises mainly in corporate & commercial, property and development, construction, employment, trusts and wealth management law.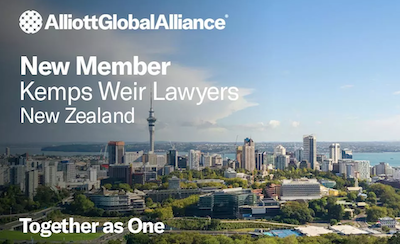 Business at the firm is conducted in English, Mandarin and Spanish.
Stuart comments:
"We regularly have clients who require support in other countries when expanding their business operations. Being a member of AGA will give us access to colleagues who can support these clients outside of our jurisdiction, including in Australia and China.

"Membership will also help raise our international profile, highlighting our global reach now to colleagues in over 80 countries. We are excited to see what the future holds in terms of learning and development, the sharing of best practice and to the opportunities that may become available to us to help expand our current client portfolio".
Alliott Global Alliance CEO, Giles Brake adds:
"With most international corporations having their international office in Auckland, it was important to appoint a strong, independent law firm to represent the alliance in such an important economic and financial hub. AGA member firms all over the world need legal support for their clients in New Zealand and will be able to rely on Mike and Stuart's experienced team. The appointment of this progressive firm is an important milestone in our Australasian membership development plan. We send a very warm welcome to all of the team in Auckland."
Kemps Weir's appointment gives the alliance dual representation in Auckland, with Alliott NZ providing accounting services. Alliott Global Alliance is growing continuously and now has member firms in the following APAC countries: China, Hong Kong, Bangladesh, Singapore, Indonesia, Malaysia, India, Australia, Papua New Guinea, New Zealand, Japan, South Korea, Nepal, Pakistan, Thailand, Taiwan, and Vietnam.
As specialists in corporate commercial, property and development, construction, trusts, employment, wills, estates, and powers of attorney Kemps Weir, has been helping businesses and individuals to navigate legal issues to help achieve their objectives.
Alliott Global Alliance
Alliott NZ is a member of Alliott Global Alliance, a worldwide alliance of independent accounting, consulting and law firms. As a member of Alliott Global, we are able to provide seamless national, regional or international support for our clients in more than 80 countries whilst supporting the local needs of businesses here in New Zealand. Our clients benefit from the collective resources, advice and experience we can tap into to help their businesses succeed and grow, both here in New Zealand and overseas.

For any business considering expansion into a new market, an understanding of the local economy and culture is essential. Through the partner-led service that member firms within Alliott Global provide, clients have access to a constant contact point enabling a better understanding of their business needs.

Read more here or call our team in Auckland on +64 9 520 9200.