APAC region appointments and promotions
Baumgartners Chartered Accountants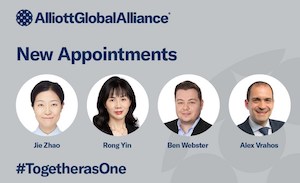 Baumgartners Chartered Accountants, AGA's member firm based in Melbourne, Australia, is pleased to announce the promotion of Alex Vrahos to Partner in the Business Services team. This was effective 1 January 2021.
Alex joined in 2019, having previously worked in several larger firms, including PwC London. With a staff and clients first approach, he brings a wealth of experience, energy and enthusiasm to the team.
Possessing a strong technical focus, Alex specialises in privately held business and high net worth individuals and families. He provides guidance and advice to established and start-up clients alike and brings strong business acumen and experience in a broad spectrum of industries.
Alex has a passion for working closely with his clients and assisting them in reaching their strategic objectives. His strong technical knowledge, combined with an entrepreneurial flair, allows him to guide his clients on a broad range of issues, having particular expertise in:
Business structuring and asset protection
Optimised tax outcomes
Client advisory boards
Managing Partner David Baumgartner comments:
"We warmly welcome Alex to the partnership and are very excited about this appointment. We are confident our close alignment in vision and client centred approach will see Baumgartners continue to grow sustainably well into the future."
Broadley Rees Hogan
Congratulations to Ben Webster who recently joined Broadley Rees Hogan, AGA's law firm in Brisbane, as a Senior Associate in the property services team. An admitted solicitor of the Supreme Court of Queensland and High Court of Australia, Ben practices primarily in property, body corporate and commercial law.
Ben is a practical, strategic and commercial lawyer, with experience of working with a diverse range of clients.
Chance Bridge Partners
Chance Bridge Partners, AGA's law firm member in Beijing, has welcomed Dr Jie Zhao, a former researcher of the China National Intellectual Property Administration and Director of the CICPA Beijing Centre firm as IP Consultant.
With a doctorate in civil engineering, Dr Zhao has experience in handling many chief re-examinations and substantive examinations of patents and international search/preliminary examinations and approvals. Dr Zhao has also presided over and participated in business training for new examiners, patent agencies, and intellectual property service agencies across the region and is an award-winning author and researcher.
A main business area for the firm, the intellectual property team at Chance Bridge consists of some of the top IP experts and senior lawyers in China who have presided over many high profile litigation cases. The appointment of Dr Zhao will strengthen the team dynamics as she will provide technical and theoretical support, helping the intellectual property team to build a more comprehensive and in-depth profile.
Chance Bridge also extends a warm welcome to Ms Rong Yin, who has joined the firm as a Beijing office partner.
A specialist in corporate governance and risk management, corporate mergers and acquisitions, and commercial disputes, Ms Yin has successfully acted for clients in over a hundred commercial disputes involving enterprises in construction and intellectual property rights. Ms Yin will further enhance Chance Bridge's expertise in this area.
Alliott Global Alliance continues to grow and now has member firms in the following APAC countries: China, Hong Kong, Bangladesh, Singapore, Indonesia, Malaysia, India, Australia, New Zealand, Japan, South Korea, Nepal, Papua New Guinea, Pakistan, Thailand, Taiwan and Vietnam.
About Alliott Global Alliance:
Founded in 1979, and with 195 member firms in 80 countries Alliott Global Alliance is an award-winning alliance of independent, law, accounting, and specialist advisory firms, working across the world Together as One. Each of our members shares a common goal: to learn and share knowledge, resources, and opportunities to make the world smaller and their businesses stronger.
We work with a spirit of generosity and openness — so that together, we can continue to fulfil our ambitions, gain greater experience, and drive mutual success. Alliott NZ Chartered Accountants & Business Advisors is a New Zealand Top 30 firm and Alliott Global Alliance member. Read more here »